Travel Inspiration: Costa Rica. Noah's Ark of the 21st Century. With Time at the Beach.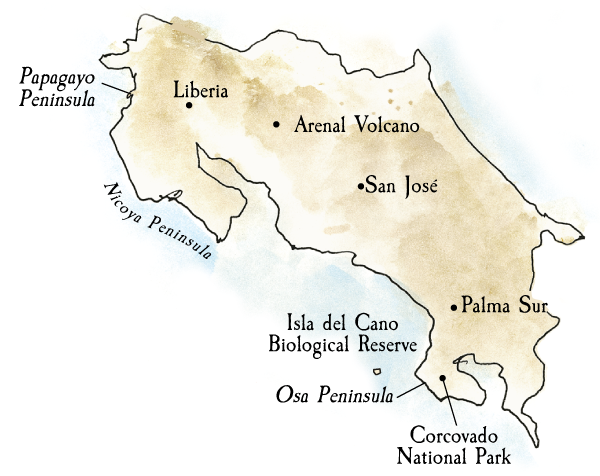 Costa Rica. Dominated by coastlines. Where the loudest sounds come from the local volcano. The most important meetings are held by howler monkeys and blue-crowned motmots. And running your toes through the beach sand constitutes a significant appointment. A place where rush hour is a river float passing through jungle. And your most pressing deadline is catching the sunset just so.
Fly from home to San José, Costa Rica's capital city, and check in to your hotel. The following morning, catch a small plane for a short flight to Palma Sur on the Osa Peninsula. This region, says National Geographic, is "the most biologically intense place on Earth."
During our 11-day Costa Rica travel itinerary, we explore San José, Osa Peninsula, Corcovado National Park, Isla del Cano Biological Reserve, Arenal Volcano, and Nicoya Peninsula or Papagayo Peninsula.
Would you like to visit Costa Rica?
The details of each R. Crusoe journey are unique and special — much like an architect's renderings or a chef's secret sauce. Have one of our real human travel planners send you your own private copy of the fully customizable itinerary via the form below, including day-by-day activities, accommodations and base pricing. Don't hesitate to ask them your questions—they'll also be your personal travel concierge from the moment you get in touch.
Request the full complimentary literature below, or call us at (800) 585-8555.