Travel Inspiration: Ravishing Italian Lakes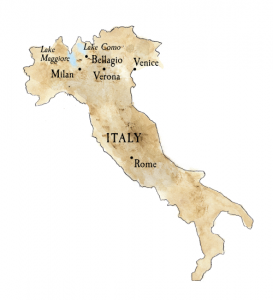 Land in Milan and be whisked off to a magical part of Italy (which is saying quite a lot given how fabulous all of Italy is). You are driven to your hotel on Lake Como. The villages that ring Italy's great lakes have drawn composers, writers, royalty, and a famously ambitious hotel magnate like moths to the flame. One visit, and you understand why.
During our 4-day Ravishing Italian Lakes itinerary, we explore Milan, Lake Como, Lake Maggiore, and Verona.
Verdi, Liszt, and the Shelleys loved the lakes. Mark Twain first thought Como had nothing on Lake Tahoe, but he soon changed his tune. Later, Steve Wynn found inspiration for his Vegas hotel (we prefer the original). The following morning, board a private boat to Tremezzo for a visit to Villa Carlotta or Villa Balbianello, depending on which garden is most in bloom. 
Would you like to continue reading?
The details of each R. Crusoe journey are unique and special — much like an architect's renderings or a chef's secret sauce. Have one of our real human travel planners send you your own private copy of the fully detailed itinerary via the form below, including day-by-day activities, accommodations and base pricing. Don't hesitate to ask them your questions—they'll also be your personal travel concierge from the moment you get in touch.
Request the full complimentary literature below, or call us at (800) 585-8555.