Travel Inspiration: Essential Tuscany & Unexpected Umbria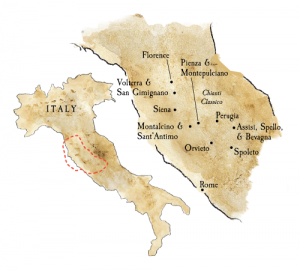 Head for the hills… of Tuscany and Umbria, that is. Where la dolce vita is the only way to go. Where the reds pour freely, and your taste buds hardly have time to recover from your last great meal. Where medieval towers rocket into blue skies. Where the cathedrals are blessedly ancient, and the latest gossip enlivens an evening in the local piazza.
During our 10-day Essential Tuscany & Unexpected Umbria itinerary, we explore Siena, Hill Towns, Wine Regions, and Perugia.
Submerge yourself. How can you resist? Begin in Florence, Italy. You are driven into the Tuscan countryside to the ancient city of Siena, a town at odds with Florence during much of its history. As Dante wrote in the Inferno, Siena's greatest moment came in 1260 when it defeated Florence.
Would you like to continue reading?
The details of each R. Crusoe journey are unique and special — much like an architect's renderings or a chef's secret sauce. Have one of our real human travel planners send you your own private copy of the fully detailed itinerary via the form below, including day-by-day activities, accommodations and base pricing. Don't hesitate to ask them your questions—they'll also be your personal travel concierge from the moment you get in touch.
Request the full complimentary literature below, or call us at (800) 585-8555.