Travel Inspiration: Japan Revealed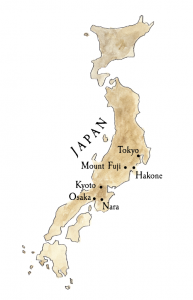 Shrines, treasures, geishas and gardens: The inscrutability is real. Japan is not so much one culture as many faces of an ancient culture. Shinto spins a yarn about Jimmu, grandson of the sun goddess. Emperors are pushed aside by mighty shoguns. Zen gardens lead us to rethink our aesthetics. Futuristic bullet trains speed us to ancient towns. Sacred shrines enchant, but so do geishas. All in one tiny island-nation no more than a dot in the Pacific.
During our 10-day Japan Revealed itinerary, we will traverse Tokyo, Hakone, Mount Fuji, Kyoto, and Nara.
Land in Tokyo for a sound night's sleep before we dig into this fascinating city. A collective of digital artists called teamLab gives us our first taste of life in new Japan. Explore Lake Ashinoko, Hakone's submerged caldera, by boat. By train, we head to Kyoto, founded in the eighth century A.D. It would serve as Japan's capital city until 1868. Today, it houses the largest number of national treasures of any Japanese city, including an astounding 17 UNESCO sites. It is also among the last Japanese city to host geishas.
Would you like to continue reading?
The details of each R. Crusoe journey are unique and special — much like an architect's renderings or a chef's secret sauce. Have one of our real human travel planners send you your own private copy of the fully detailed itinerary via the form below, including day-by-day activities, accommodations and base pricing. Don't hesitate to ask them your questions—they'll also be your personal travel concierge from the moment you get in touch.
Request the full complimentary literature below, or call us at (800) 585-8555.